The Campmasters Corps is a group of selected, trained, registered volunteer Scouters who serve on weekends, year round at Rum River Scout Camp and Stearns Scout Camp.
Campmasters are there to:
assist the Ranger with the check-in and check-out of your unit

assist in developing weekend camping programs

conduct special program features to add to your weekend experience

check out all available program equipment to your unit

counsel with unit leadership on troop, patrol and den operations

assist and facilitate in emergency situations

provide aid and be a knowledgeable resource to the unit
Our Campmasters are dedicated volunteers who are there to help. You can check with them about troop campfires, worship services, camp rules and regulations, emergency procedures, and just about anything that pertains to your unit camping. Your Campmasters will be found at Rum River in the Julian J. Schmidt Campmaster Building and at Stearns Scout Camp in either the Gate Lodge or Crosby Lodge.
Either individuals (male or female) or couples (with at least one member being a registered Scouter) are encouraged to apply for a Campmaster position. Applicants must be knowledgeable of Scouting, but just as important, must possess congenial positive people skills.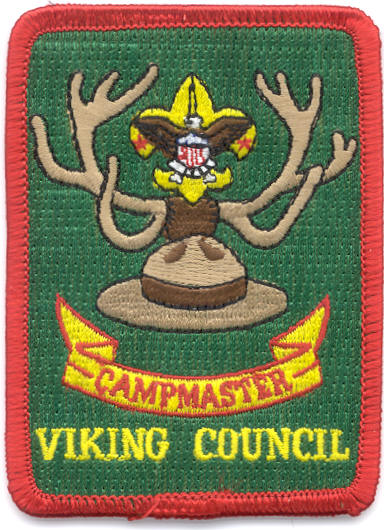 click on patch for application
Steps To Becoming A Campmaster
There are five very easy steps in becoming a Campmaster.
Complete an application. There are only two required items:
applicant must have completed Youth Protection in the past two years

applicant must have completed Scoutmastership Fundamentals

Basic First Aid, CPR, Cub Leader Basic, Commissioner Basic and Wood Badge are all optional - not required
Attend an orientation - usually less than an hour. Following the orientation, and invitation may or may not be extended, pending council approval to attend the annual inservice.
Attend either the spring or fall Campmaster Inservice (one Saturday).
Serve at least 3 weekends the first year as an intern with other certified Campmasters.
Upon successful completion of the internship, full Campmaster status is earned.
Our Rangers would like to tactfully remind you that as a Campmaster it would be a working weekend for you, not a weekend get-away.
Applications should be mailed to:
NorthernStar Council, BSA
Attn: Camping Department
5300 Glenwood Avenue
Minneapolis, Minnesota 55422