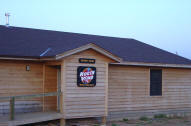 Viking Council is embarking on an exciting new winter camping program for Scouts and Venturers called North Wind. The purpose of North Wind will be to develop self-reliance, resourcefulness, learn teamwork, co-operation and responsibility by applying winter camping skills.
This new program is made possible by a generous donation from friend of Scouting Lawrence Gagner in memory of his wife Adina Gagner. The donation to the Viking Council has enabled the construction of a new winter lodge at Stearns Scout Camp and the purchase of the winter camping equipment needed for the program.
Training
Camping in winter requires thorough preparation and training. The Scout motto of Be Prepared applies even more so to winter camping. Scouts who come to North Wind will receive training in the following key areas for success and enjoyment of the winter camping experience: Clothing (wicking, warmth, and wind protection layering), techniques for staying warm through food, hydration, insulation and activity, winter first aid, equipment, food, personal hygiene and keeping dry and learning to thrive in any weather condition! Each crew will have a Staff Guide with them for the entire weekend to continue the ongoing training and application process.
Program
During the winter, North Wind will be open to Scouts age 13 and older, Venturers and their leaders. Here is the outline for the program:
Friday Night:

Scouts, and their accompanying leaders, will receive training on winter camping essentials and each Scout will be issued a full set of equipment and clothing for the weekend. Crews will sleep indoors in the Gagner Lodge.

Saturday:
After a hearty breakfast, the crews will trek to a remote camping area and build a variety of shelters for their overnight camping. They will spend the day in outdoor winter activities and games and prepare their meals. Crews will sleep in their shelters on Saturday night.

Sunday:
On Sunday, crews will fix breakfast, pack up and head back to Gagner Lodge. Sunday will also include a big lunch, recognitions and the great feeling of learning and accomplishment.

For Younger Scouts:
Beginning the winter of 2003, younger Scouts will arrive on Saturday morning to receive training and personal equipment and will participate in outdoor programs and cooking. They will sleep indoors on Saturday night in Gagner Lodge and will break camp on Sunday morning.

Activities:
Winter camping means staying active and North Wind will feature a great deal of activities for Scouts. These activities will include a variety of programs such as: Shelter building including quinzees, thermal shelters, polar domes, parachutes, and igloos. Cross country skiing, and snowshoeing. Winter cooking, making snow sculptures and snow snakes, ice fishing, astronomy in the winter sky and orienteering.

There will also be a variety of non-snow activities such as: Learning about winter nature, winter survival and building winter survival kits. First aid, ice crossing safety, building non-snow shelters, matchless fire building, compass games and GPS. And much more…

Equipment
North Wind will provide a fully equipped and provisioned winter camping program for each Scout who participates. Equipment to be provided will include:
Clothing
including mittens and liners, boots and liners, socks and liners, hats, pants, suspenders, and gaiters.

Sleeping and Shelter provisioning including sleeping bags, ground pads, lanterns, and shelter materials such as parachutes, tarps, tents, shovels and polar domes.

Food and cooking equipment including stoves, water bottles, cooking equipment, and a full provisioning of food.

Activity equipment including crew sleds, skis, poles and snow shoes.

Registration
Registration for 2003 will begin in October. Scouts, Venturers and their leaders should sign up as a unit and will be organized into crews of 10 to 12. This first year, each weekend will be limited to 6 crews. The fee for each participant for the weekend will be $50.

The 6 program dates will be the first three weekends in January and the first three weekends in February.

Recognition
A distinctive patch will be presented to each participant.

Build yourself a winter camping adventure you'll never forget. Plan now to sign up for North Wind.

Fact Sheet and 2003 Registration Form


Top of Page
Stearns Scout Camp
3303 County Road 44
South Haven, MN 55382
(320) 236-7879
(320) 236-7494 (Summer Only)
The ScoutingBSA.org web site is a legacy site of the Viking Council BSA, now Northern Star Council.
This site was the original council site and was active from 1996 to 2002 and run by volunteers. As the web became more important to Scouting, the council took over with paid staff. This site is no longer maintained but is an interesting snapshot of an early Scouting web site. You can share your comments
using our on-line form or send a message to the Webmaster. Thank you for visiting!