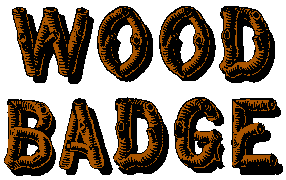 ---
Acceptance of Invitation to
SCOUT LEADER WOOD BADGE
I accept the invitation to attend the 2003 Advanced Leader Wood Badge training course. I have completed basic leader training, i.e. Boy Scout Leader Basic Training / Scoutmastership Fundamentals / Commissioner Basic Training or Varsity Scout Leader Fundamentals. (This must be completed prior to course). I understand that attendance at the following sessions is required for completion and certification.
Weekend #1: August 22, 2003 from 8:00 a.m. until August 24, 2003, at 6:00 p.m.


First mid-course-weekend meeting (To be arranged; approximately 2 hours.)


Second mid-course-weekend meeting (To be arranged; approximately 2 hours.)


Weekend #2: Sept. 26, 2003 from 8:00 a.m. until Sept. 28, 2003, at 5:00 p.m.
There is a pre-course meeting, Time and Date TBD at the council office to complete registration, discuss "the ticket", and answer questions. Attendance is encouraged but not required. The course fee of $180 covers all course materials but does not cover the cost of meals for part of the second course weekend. A minimum $60 deposit needs to accompany this application. Upon receipt of your application and deposit, we will mail further information to you. All fees are non-refundable.
Instructions:
This is an on-line application. If you browser supports "forms" you should be able to fill in the blanks on the form below. Those items preceded by a red star (*) must be completed for your application to be submitted.
When you have completed filling in the application, click on the "Submit Application to Viking Council" button at the bottom of the application. The contents of the application will be submitted for you.
You need to complete the application process by forwarding the course deposit to the council office. The course fee is $180; the minimum deposit is $60. The deposit must be received to hold your place in the course. The full course fee is due by no later than May 30, 2003. Be sure to identify your deposit with your name and address; indicate that the deposit is for Wood Badge Training. The council address is:

Viking Council, BSA
Wood Badge Training
5300 Glenwood Ave
Minneapolis, MN 55422

If you browser does not support "forms" simply print the page, fill in the application, and forward it with your deposit to the council address.
---
On-Line Application for
Wood Badge Course C-3703
---
or