Many Point Scout Camp
Ponsford, MN 56575
(218) 573-3257 (Summers Only)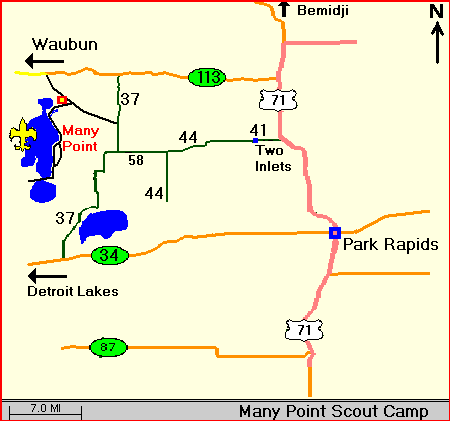 Go Highway 71 North of Park Rapids for 10.7 miles until you reach Highway 41.

Turn west on Highway 41 about 3.2 miles through Two Inlets where the Highway will change to Highway 44. Continue West on Highway 44 for 6.2 miles until you reach Highway 58.

Take 58 West 3.9 miles to 37. Go north on 37 for 2.9 miles and watch for the Many Point sign which will turn left on to a gravel road called Elbow Lake Road. Go 2.9 miles on Elbow Lake Road and watch for the Camp Gate on the left hand side. Proceed to the Wood Memorial Admin Bldg for check-in.

Back to Maps
The ScoutingBSA.org web site is a volunteer effort. Suggestions for improving the site are welcome! Please share your comments with us using our on-line form. Problem reports may be sent to the Webmaster. Our goal is to improve communications and to advance Scouting in Minnesota. Thank you for your input!