Program Areas


Buckskin Camp 2001


Ten Chiefs Camp 2000


Voyageur Camp 2002


Flintlock


Family Camp

Resources


Check the Weather


Many Point Maps


Leader Handbook


Camp Forms


Patch Museum

Site Availability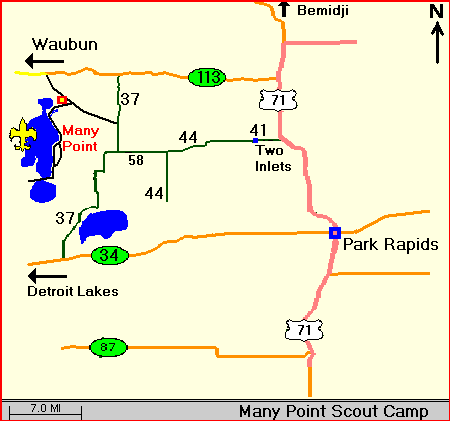 Go Highway 71 North of Park Rapids for 10.7 miles until you reach Highway 41.

Turn west on Highway 41 about 3.2 miles through Two Inlets where the Highway will change to Highway 44. Continue West on Highway 44 for 6.2 miles until you reach Highway 58.

Take 58 West 3.9 miles to 37. Go north on 37 for 2.9 miles and watch for the Many Point sign which will turn left on to a gravel road called Elbow Lake Road. Go 2.9 miles on Elbow Lake Road and watch for the Camp Gate on the left hand side. Proceed to the Wood Memorial Admin Bldg for check-in.
The ScoutingBSA.org web site is a legacy site of the Viking Council BSA, now Northern Star Council.
This site was the original council site and was active from 1996 to 2002 and run by volunteers. As the web became more important to Scouting, the council took over with paid staff. This site is no longer maintained but is an interesting snapshot of an early Scouting web site. You can share your comments
using our on-line form or send a message to the Webmaster. Thank you for visiting!