Youth Achievement


Arrow of Light


Hornaday Award


Eagle Scout


Explorer Award


Quartermaster
Leadership Awards


Cub Scouter Award


Cubmaster Award


Den Leader Coach


Webelos Den Leader


Den Leader Award


Tiger Organizer


Scouter Training


Scouters Key


SM Award of Merit


Sea Badge


Professional Training

Religious Emblems


Youth


Adult

Bravery Awards


Honor Medal


Heroism Award


Medal of Merit

Honor Awards


George Meany


Whitney Young Jr.


Wm. H. Spurgeon


O.A. Service Award


Commissioner
Arrowhead Honor


Commissioner Svc.


District Merit


Silver Beaver


Silver Antelope


Silver Buffalo


Silver World


James E. West


Daniel Carter Beard
Click on a knot or the list on the left side of the page for details and requirements of the award.

Knot Page with Scans

Note: There are lots of "unofficial knots" that are issued by units, Councils and for sale in the back of Boy's Life. Like the "Untrained" patch, they are not official and should not be worn on the uniform at any time.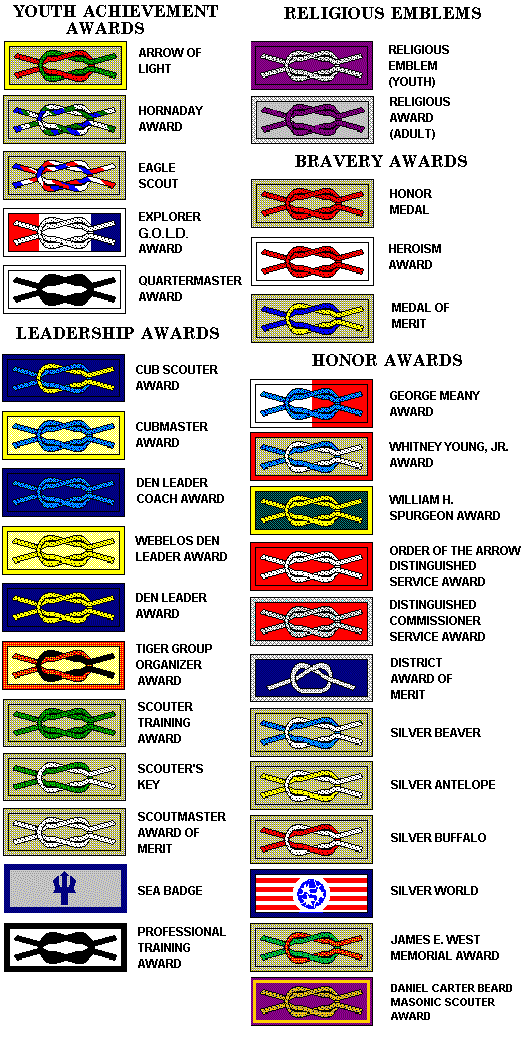 The ScoutingBSA.org web site is a volunteer effort. Suggestions for improving the site are welcome! Please share your comments with us using our on-line form. Problem reports may be sent to the Webmaster. Our goal is to improve communications and to advance Scouting in Minnesota. Thank you for your input!